Just over a year ago I ordered an additional set of wheels for my BMW R1200 GS Adventure, from Woody's Wheel Works. Since I intended to use them for off-road riding I decided to go with a 21" front and an 18" rear. As I have documented at http://advrider.com I had some challenges with the wheels being too big to really fit on the BMW R1200 GS Adventure.
For the front wheel I had to grind down the one brake caliper a fraction to keep the spooks from touching. That was easy and quick and the front has worked great since. The remaining thing for the front is to replace the mud guard to make sure mud doesn't accumulate and lock the wheel. At the moment I always remove the splash guard when I mount the 21" wheel. More on that later.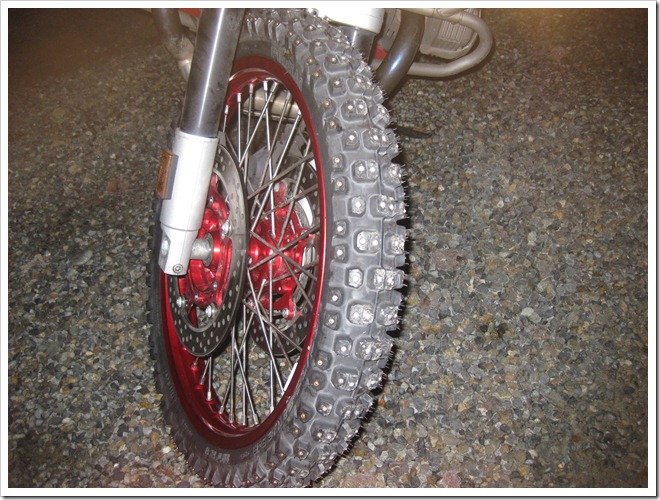 The 18" rear wheel has caused more challenges. The tire kept catching on the splash guard for the ESA unit (electronic suspension) and the ESA unit itself was uncomfortably close to the wheel, in particular when I had my studded tires on since they don't wear as a normal tire. So when I met Woody at a race in Los Angeles earlier this year we made a deal and I returned the 18" wheel and replaced it with a 17", which is the stock size. I am now much happier with the 17" since it doesn't cause any fitting or size problems. It also gives me a little bit less speed (and more torque) in first gear which is better at low speed maneuvers. I also believe I will be able to put chains on for the really tough weather. (I have only used chains on my Suzuki DRZ 400 before)
The only drawback is that the ASC (traction control/anti spin control) cuts in occasionally since it now perceives that the front and rear wheels are running at different speeds. It usually happen at highway speeds and isn't a big problem. It is not a problem at all when I remember to change the ASC setting to allow moderate spinning.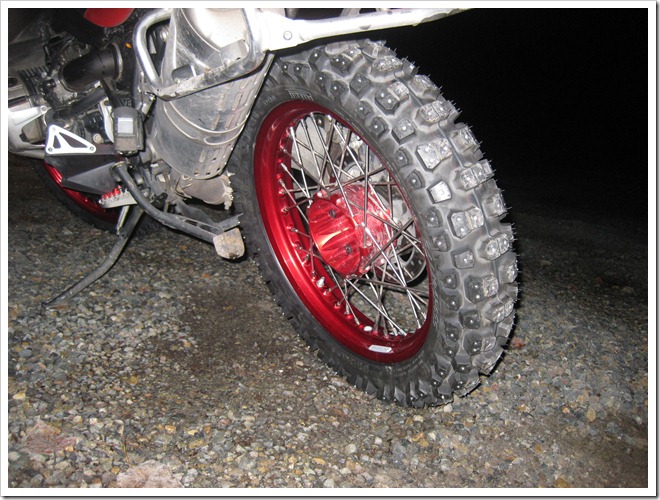 Changing the rear wheel of course also meant changing the tire. The custom studded tire gave me some concern since the 17" rim is 3.5" wide and I wasn't sure how that would go with off-road sizes. After speaking with the folks at Kevin's Cycle I ordered another MT21 in the 130/80 size. The tire should arrive tomorrow and I'll report back with my experiences later.