About Me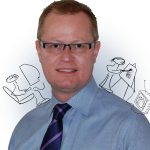 Welcome! This is my home on the web!
The lion share of my career has been focused on building partnerships and alliances; first with several smaller software companies, then during a 13 year adventure with Microsoft that took me around the world to finally land me in Redmond, WA. With new skills from Microsoft I set out to run my own business as a social media Conversation Starter, which eventually led me to DataCore Software where I am leading the worldwide alliances efforts.
I bring a unique combination of business acumen and technology insight. Key to my success include an ability to listen, experience in formulating strategies, and getting to results by bringing out the best in others.
I firmly believe that partnerships and collaboration, whether within an organization or between companies, are cornerstones for success. Through numerous projects I have created alliances in areas of sales, marketing (on-line, brand, PR, campaigns,…), and software development.
Can I help you? Let's start a conversation!