About Me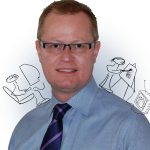 Welcome! This is Håkan Söderbom's home on the web!
Here you will learn who I am and what I do, both at work and through my hobbies.
The lion share of my career has been focused on business development; building partnerships and alliances. More recently I have acted as a Conversation Starter helping organizations of all sizes build their online presence through Social Media Marketing.
When I recently was invited to join DataCore Software as the Director of Alliances it was an opportunity to assemble the best successes of my career and go make some great contribution to a great company! I couldn't have been happier.
This means that my role as a Conversation Starter evolves from helping many companies with their online presence and reputation management, to focusing on one segment (Cloud Computing) while building relationships and alliances in the hardware and software industry. That said, I envision that my skills as a Conversation Starter will be beneficial in my new role.
I bring a unique combination of business acumen and technology insight. Key to my success include an ability to listen, experience in formulating strategies, and getting to results by bringing out the best in others.
I firmly believe that partnerships and collaboration, whether within an organization or between companies, are cornerstones for success. Through numerous projects I have created alliances in areas of sales, marketing (on-line, brand, PR, campaigns,…), and software development.
Can I help you? Let's connect and start a conversation!